The fly ash market size was valued at US$5.482 billion in 2020 and is estimated to increase at a Compound annual growth rate of 5.93% over the predicted period to reach US$8.204 billion by 2027. Fly ash is a diverse side product material produced during the burning of carbon in power plants. It's a smooth grey substance with spherical crystal particles that emerge with flue gases. Because fly ash incorporates pozzolanic components that combine with lime to form supplementary cementitious materials, as a result, fly ash is used in construction, mining, landfills, and dams.
Factors Impacting the Fly Ash Market Growth
The market of fly ash is expected to grow as a result of the construction sector's expansion, increased emphasis on construction and road concrete slabs, difficulties associated with the disposal of fly ash, government advancement of fly ash in various countries, and increased emphasis about the use of environment-friendly materials. Fly ash is a lowered fine material emitted after burning coal, typically in thermal power stations. Fly ash is mostly used commercially to make a range of products used in the construction sector. Fly ash is composed of calcium oxide and silicon. When fly ash is blended with water and lime, a derivative similar to Portland cement is formed with greater strength and durability, widely used in building projects. The popularity of fly ash is growing due to various governments emphasising the environmental benefits of fly ash usage. Compared to conventional ash mixes, fly ash allows for a low water-cement ratio for comparable blends.
Malaysia, Indonesia, China, and India are expected to invest more in fly ash infrastructure improvements because it is less porous and emits less co2, thereby contributing to reduced emissions. The agricultural industry uses fly ash for soil stabilisation.
The mining industry is looking at possible methods of stowing, and fly ash is an option because it reduces water usage by approximately 50%.
It can be used in water purification to reduce Total Suspended Solids, Total Dissolved Solids, and ph levels of water to filter water, which is expected to drive demand for the fly ash market.
Components of Fly Ash
Fly ash composition is entirely dependent on the type of coal as well as the combustion method.
Different fly ash compositions by a different types of coal used:
| | | | |
| --- | --- | --- | --- |
| Component | Bituminous Coal | Sub-bituminous Coal | Lignite Coal |
| SiO2 (%) | 20-60 | 40-60 | 15-45 |
| Al2O3 (%) | 5-35 | 20-30 | 20-25 |
| Fe2O3 (%) | 10-40 | 4-10 | 4-15 |
| CaO (%) | 1-12 | 5-30 | 15-40 |
| LOI (%) | 0-15 | 0-3 | 0-5 |
Types of Fly Ash
As Per IS Codes
Grade I of fly ash is derived from bituminous coal with SiO2+Al2O3+Fe2O3 fractions greater than 70%. Fly ash is derived from lignite coal with fractions SiO2+Al2O3+Fe2O3 greater than 50% are Grade II fly ash.
As Per ASTM
Type C fly ash is made from the burning of lignite or sub-bituminous coals, contains more than 10% CaO, and has pozzolanic as well as cementitious properties. Type F fly ash, which is formed by the burning of bituminous or anthracite coal, contains less than 10% CaO and has pozzolanic properties.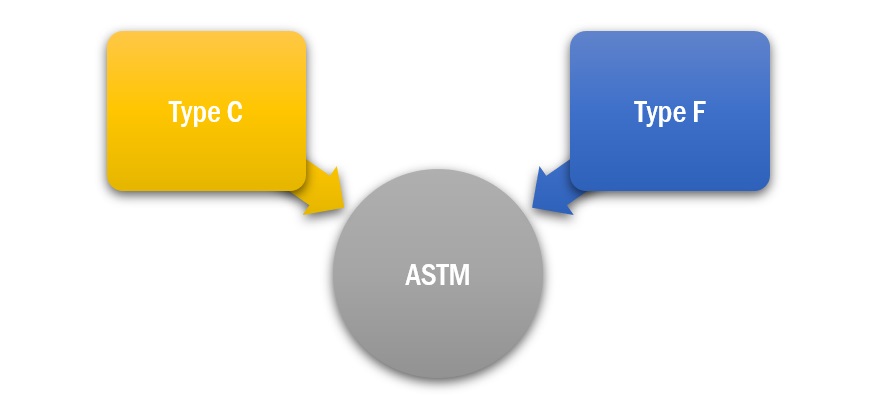 Based On Boiler Operations
When the combustion temperature is less than 900o C the low temperature (LT) fly ash is formed. High temperature(HT) fly ash is produced by combustion of less than 1000o C.
Fly Ash Uses
The requirement in the construction sector and fly ash market is expected to be driven by the increasing industrialization, population, and standard of living.
Fly ash is being used to build embankments and roller-compressed concrete dams. Fly ash is used as a reinforcement material in flowable and structural fills because it provides barrier properties and toughness. It is also used as an admixture in asphalt road construction, filling void spaces.  Fly Ash is used in the production of Portland cement and the production of ash concrete blocks used in construction, as fly ash bricks entail 25-30% less cement.
The growing number of highway and expressway megaprojects is expected to expand the market for fly ash.
Class F Fly Ash is Expected to Lead the Market Growth of the Fly Ash Market Globally
The Class F type fly Ash is anticipated to grow the fastest due to increased demand from the industrial and construction sectors.
Class F fly ash is primarily used for Portland cement, where it is used in concrete structures and high potency mixes. It is also appropriate for summer concrete casting because it reduces heat gain during the curing process. Global demand for Class F fly Ash is expected to be driven by increased consumption of cementitious and cement materials in the building and construction industry. Rising construction spending in China and India has increased the consumption of Class F fly ash.
Portland Cement and Concrete Application in Residential Projects
The Portland cement and concrete application are the widest because of increasing adoption from the residential and non-residential construction projects. Fly ash concrete has a marginally lower potency than normal cement concrete for up to 30 days, similar power in 30-40 days, and better durability than normal cement after a year. Fly ash concrete is less permeable and has fewer erosions than regular concrete. According to Statistic Canada, the total investment in building projects in Canada is CAD$ 20.0 Billion. In which non -residential construction expenditure is CAD$ 201 492.1 million. The soaring Construction sector is anticipated to bolster the demand for fly ash market globally.
The Impact of the Russia-Ukraine Conflict in 2022
Negative consequences are widely anticipated worldwide, particularly in the European Union, Eastern and Central Asia, Eastern Europe, and the United States. Russia held some of the major thermal power plants. It contributes majorly to thermal power generation the region also accounts for 12% of oil reserved share of the world (Source: BP). Still, all of this has been jolted due to the conflict situation in the region, which has impacted the fly ash market as well as it is one of the by-products of the thermal power plant. According to OEC, Russia exported $5.02 million in Other Slag and Ash in 2020. . Other Slags and Ash exports from Russia are primarily destined for Kazakhstan ($1.73M), Belarus ($1.26M), Ukraine ($783k), Azerbaijan ($466k), and the United States ($451k). This dispute has had a significant impact on people's homes and lives and caused massive breakdowns in trade dynamics. The possible implications of the ongoing battle and ambiguity in Eastern Europe are considered to harm the global economy, with Russia bearing the brunt of the long-term consequences.
Covid-19 Impact
COVID-19 is an unprecedented public health crisis globally that has impacted nearly all of the business, and the protracted effects are anticipated to have an influence on the market growth of fly ash during the forecast period. As the stringent government regulation jolted several industries and the global shutdown impact the labour market the construction business was put on hold as a result the demand of the construction material and cement was declined during the period hence observing the drop in the fly ash market as well.
https://www.knowledge-sourcing.com/resources/wp-content/uploads/2023/01/fly-ash-market.jpg
519
1000
admin
https://www.knowledge-sourcing.com/resources/wp-content/uploads/2023/02/Printable-Resolution-big-300x78.png
admin
2023-01-07 12:50:20
2023-03-10 12:54:13
The New Age Concrete