The Top 10 Lithium-Producing Countries

With an atomic number of 3, lithium is a versatile element. For example, it is employed in the construction of airplanes and batteries. In addition, manufacturers are becoming more interested in creating electric cars (EVs), which is expected to increase demand for lithium and associated goods.
In 2021, according to the world economic forum, the amount of lithium produced globally topped 100,000 tonnes, quadrupling from 2010. Furthermore, only three nations accounted for around 90% of it.
Table 1:      Lithium-producing Countries, Production In Tonnes, 2021
| Rank | Country | 2021 Production (tonnes) | % of Total |
| --- | --- | --- | --- |
| #1 | Australia | 55,416 | 52% |
| #2 | Chile | 26,000 | 25% |
| #3 | China | 14,000 | 13% |
| #4 | Argentina | 5,967 | 6% |
| #5 | Brazil | 1,500 | 1% |
| #6 | Zimbabwe | 1,200 | 1% |
| #7 | Portugal | 900 | 1% |
| #8 | United States | 900 | 1% |
| |      Rest of the World | 102 | 0.1% |
| | Total | 105,984 | 100% |
Source: World Economic Forum
Australia is responsible for more than 50% of the worldwide lithium production. Australian lithium is obtained through hard-rock mining for the mineral spodumene, as opposed to Chile, where lithium is recovered from brines.
China, the world's third-largest producer, is well-established in the lithium industry. Over the past ten years, Chinese corporations have bought lithium assets worth over $5.6 billion in nations including Chile, Canada, and Australia and established local mines. According to World Economic Forum, China is home to 60% of the world's lithium-refining capacity.
The US Geological Survey states that the lithium triangle, an area of over 400,000 km2 that includes Chile, Bolivia, and Argentina, has roughly 60% of the world's known deposits of this metal, also known as "white gold" by those working in the field. As a result, investors are preparing to start or continue working with these nations as they consider their future possibilities, particularly Chile.
Australia
Australia is in the fortunate situation of possessing significant hard rock lithium deposits. This resource is easily accessible thanks to well-established mining technology, which an established, competent, and effective mining sector in Australia has already applied in other mining applications.
Few regulatory measures and incentives support the lithium value chain as the country debates energy strategy for future decades. In the ACT and Victoria, there is some limited assistance for the purchase of EVs; nevertheless, in most situations, the policy settings do not directly support generating consumer demand for either stationary energy storage or transportation. Australian governments have historically contributed significantly to the construction of gas pipelines, from the earliest days of infrastructure development with the poles and wires through the Snowy Hydro program.
Recent demonstrations from the Queensland University of Technology reveal the prototype for an Australian battery cell manufacturing process that is reasonably inexpensive. Other lithium-based technological advancements (like 24-M) exhibit extremely noticeable cost/performance advantages with noticeably reduced entry-level capital costs. Therefore, it is likely that the price of producing batteries might drop by a huge amount.
According to the Australian Bureau of Statistics, lithium exports increased by $2,318 million (737%) from the June quarter of 2022 to $2,632 million for June 2022. Since January 2021, Western Australia has contributed more than 99% of Australian lithium exports monthly.
Figure 1:        Exports Of Lithium Concentrates In Australia, In US$ Million
Source: Australian Bureau of Statistics
Lithium is mostly found in brines and spodumene deposits in hard rock. The world's biggest brine resource is located in northern Chile's Salar de Atacama, and Australia produces 60% of the world's lithium from spodumene, the largest spodumene producer. The output of spodumene lithium mines in Australia is also rising. Eastern Resources (EFE), a mineral explorer, revealed a new lithium finding at its Trigg Hill property in Western Australia's East Pilbara this year. EFE conducted a preliminary soil sample program in April and May as part of its first evaluation, and it later said that the survey had yielded "significant" lithium soil readings.
The Pilgangoora lithium mine, whose orebody has one of the greatest lithium reserves in the world, is about 75 kilometers southeast of the EFE project, which may expand on the region's history of robust lithium production. There are currently several active lithium mines in Australia. These include the Greenbushes mine, the world's largest working lithium mine, which is anticipated to generate more than 160,000 tonnes annually after ongoing expansions are finished. Another significant Australian mine is the Mount Marion lithium project run by the ASX-listed Mineral Resources in the Yilgarn Craton.
Key Developments in Australia
In August 2022, Alkem recorded a sales increase of 800% to US$770 million, making it the company's first profitable year since the merger. As a result, Allkem's stock price has increased by 50.55% in a year and 31.44% in 2022.
In July 2022, Pilbara contributed AU$205,000 to the project, including AU$50 million in pre-investment financing to help with the P1000 expansion, which is the anticipated next phase and aims to increase production capacity to up to 1 million tonnes annually.
In May 2022, Australia's first lithium hydroxide processing facility opened at Kwinana, located around 30 minutes south of Perth.
Chile
Chile is expanding swiftly in a world where battery materials are in high demand. The Salar Flat of Atacama is home to most of the nation's lithium deposits, which, together with Australia, put Chile in a prominent position in the white gold market. Lithium extraction activities in the country continue to be dominated by Albemarle Corp., located in Charlotte, North Carolina, and Sociedad Qumica y Minera de Chile SA, also known as SQM, in Santiago, Chile. This reflects the nation's historically cautious method of selling operating licenses at auction, which the Boric government has firmly established.
In Chile, NRGI (National Resource Governance Institute) is beginning to conduct a project on lithium governance. This project's overarching goal is to enhance lithium governance's aspects of economic and climate justice for the benefit of all Chileans. The specific objectives are to increase transparency and adopt international standards in the governance of Chile's lithium industry, advance development strategies for subnational producing regions, integrate socio-environmental concerns of lithium-producing areas into policy decisions, and draw lessons from Chile's experiences for Latin American discussions and regional cooperation on lithium.
In March 2023, the national lithium strategy, which will be announced this year, will continue to follow the government's plan, according to Chile's mining minister, Marcela Hernando. In addition, the government is coordinating a dialogue to develop a national lithium business as it prepares for challenging legislative discussions. The draught policy calls for consultations with indigenous groups, legislators, and others.
According to estimates by the Ministry of Foreign Affairs, from 2011 to 2020, lithium mining production in Chile. Around 18,000 metric tonnes of lithium were produced in Chile in 2020.
Figure 2:        Lithium Production In Chile, In Metric Tonnes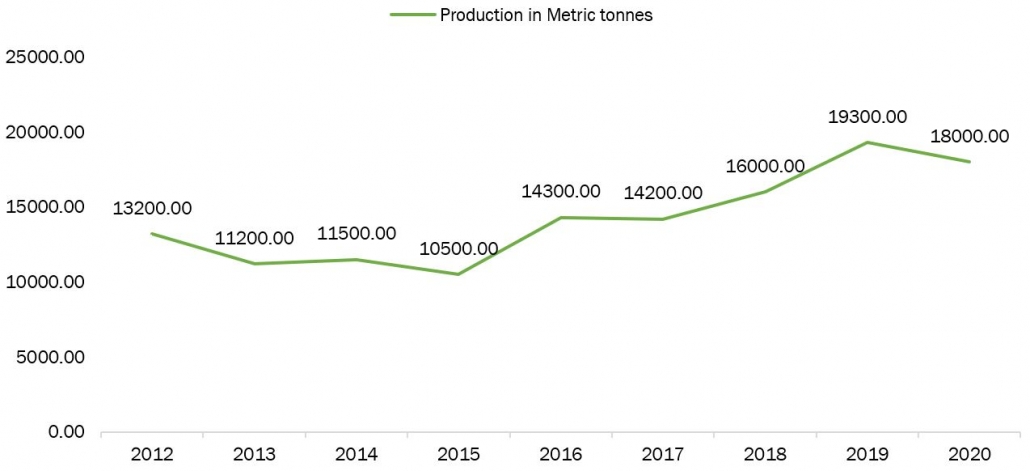 Source: Ministry of Foreign Affairs
The greatest lithium producer in the world, the Salar de Atacama is a 3,000 km2 desert salt basin in northern Chile. Lithium is extracted from this brine by Sociedad Quimica y Minera (SQM) and Rockwood Holdings Inc. SQM has two operations in the nucleus and a claim over 820 km2 in size. At the moment, its South-Western business produces lithium. A portion of Rockwood's activity in the southeast, which covers a claim area of roughly 137 km2, is dedicated to lithium extraction. A 100 km2 buffer zone separates the claims of the two businesses.
The Atacama desert salt flat, near Chile's borders with Argentina and Bolivia, has historically hosted most of the country's lithium production, but its resources are running out. Mining corporations are now keen to exploit the much smaller Maricunga salt flat, located approximately 100 miles northeast of Copiapó, as the demand for lithium continues to soar worldwide. Together with other members of the Observatorio Plurinacional de Salares Andinos (OPSAL) network, Rivera and Muoz are adamant about stopping it.
Key Developments in Chile
In February 2023, following the sale of Chengze Lithium International Limited's ("Chengze") 19.35% ownership investment in Lithium Chile to Gator Capital Ltd. ("Gator"), Lithium Chile Inc. ("Lithium Chile" or the "Company") is pleased to announce the addition of a sizeable new shareholder.
In May 2022, major lithium producer SQM from Chile announced a nearly twelve-fold increase in quarterly earnings due to rising pricing for the metal used in electric-vehicle batteries.
China
China is a significant example of how lithium geopolitics may have increased state interdependence in renewable energy production while conversely creating new (inter)dependencies and conflict prospects. Therefore, this hybrid form of energy geopolitics requires that traditional explanations for energy security be updated to reflect these unique market circumstances.
China is a prime example for studying the geopolitics of lithium. According to Benchmark Mineral Intelligence 2020, Chinese firms manufacture 70% of Li-ion batteries and produce 50% of the world's lithium. The US and Europe haven't done much to counteract this supremacy up until lately. Despite the trade war, there hasn't been any direct dispute over access to lithium resources between China and other major countries or between China and the major production states. China has mostly pursued interdependence in trade with other nations, but it has also established new interdependencies regarding technological advancement and superiority. Such an emphasis on China reflects its expanding market dominance, which might lead to new disputes and challenges to existing international norms under the discussion of an alternative system.
According to USGS estimates, China has a lithium deposit of 5.4 metric tonnes, accounting for an estimated 13% of the world's total lithium reserves. Furthermore, 85% of China's industrial lithium deposits are in lithium brines4. Salt lakes are mostly found in northwest China in Tibet, Xinjiang, Qinghai, and Inner Mongolia. The two primary brine kinds are carbonate and sulfate. The carbonate lithium deposits are mostly concentrated in the Dongtai and Xitai Ji Nai'er Lakes in Qinghai and Zabuye Salt Lake in western Tibet. The research, development, manufacture, and sales of thoroughly processed lithium goods are the main business activities of Ganfeng Lithium Group. This Chinese corporation has made significant progress in adopting a greener supply chain.
To provide supply security, the Chinese government regulates resource prices and investment (Economy and Levi 2014). It develops sustainable and all-encompassing strategies to advise the Chinese government on critical minerals, including lithium and Li-ion batteries. Three of the most recent 5-year plans—2011-2015 (CNPC 2011), 2016-2020, and 2021–2026 (CSET 2020)—strongly focused on rare earth minerals, environmental conservation, and energy efficiency. The policies and choices made by Chinese businesses in support of Chinese dominance in the global lithium and Li-ion battery sector also find an echo in society.
Figure 3:        Lithium Mine Production In China, 2020-2021  
Source: US Geological Survey  
Key Developments in China
In June 2023, the Sinomine resource group of China purchased Zimbabwe's Bikita Minerals in January, making it the continent's only lithium producer as of 2021. according to a statement released on July 14 by the government-owned engineering firm PowerChina, the corporation intends to increase output to five million tonnes of lithium annually.
In March 2023, Following the conclusion of an offtake agreement with Suzhou TA&A, Premier African Minerals, located in Togo, declared that it would begin transporting spodumene concentrate from its Zulu lithium mine in Zimbabwe to China by March 2023.
Brazil
Brazil has relaxed its lithium export regulations to take advantage of the rising worldwide demand for the metal used in electric car batteries and establish itself as a major supplier of the metal. A news agency reported Brazilian Mines and Energy Minister Adolfo Sachsida stating that the new regulation will draw investments into the Brazilian lithium sector from nations in Eastern Europe and Asia.
Brazil recently issued an executive order to do away with the need for lithium exports from the nation to be approved by the nuclear energy committee of the Science and Technology Ministry. Instead, the Brazilian government declared it would permit unlimited overseas commerce of lithium minerals, ores, and their derivatives via a Government Decree issued by the Ministry for Mines and Energy (Ministerio de Minas e Energia). The regulation change did not immediately impact Oceana because the business is only beginning its exploration at Solonopole. However, it did convey a clear message regarding the government's support for the nation's upstream project development and future lithium exploration.
Brazilian output is solely derived from pegmatite deposits in the eastern portion of the Brazilian shield, mostly in the northern Minas Gerais State area of Araçuai-Itinga. The known lithium pegmatite deposits are not thoroughly quantified. Still, the currently available information suggests that their abundance and geographic location more than makeup for their smaller sizes when compared to larger bodies found at Kings Mountain, Bikita, and other sites. These characteristics increase the likelihood of sizeable deposits, especially petalite, and spodumene. Based on research previously carried out in certain locations, these reserves are at least 25,000 tonnes of lithium.
Furthermore, there is proof that lithium brines can be found in accumulation basins in the Araçuai-Itinga district. Therefore, some Northeastern Brazilian regions could be affected by this. Arqueana de Minerios e Metais is putting together a program of systematic sampling to support this claim.
Figure 4:      Lithium Mine Production In Brazil, 2020-2021 
Source: US Geological Survey
Brazilian facilities managed by AMG Mineracao, a German company AMG Advanced Metallurgical Group division and local competitor Companhia Brasileira de Litio, manufacture lithium concentrates. Both of these projects are situated in the mining-friendly southern state of Minas Gerais, home to the enormous iron ore mines upon which the successful national mining champion Vale was founded.
The Groto do Cirilo lithium project, also located in Minas Gerais, is being developed by Sigma Lithium Corporation, listed on the TSX and NASDAQ. On the strength of its success with Groto do Cirilo, which may become the fourth-largest lithium mine in the world at peak production, Sigma has expanded into a C$2.1 billion firm. Within the Solonopole landholding, detailed field mapping by Oceana's Brazilian affiliate Ceara Litio revealed around 17km of outcropping mineralized pegmatites. The in-country team is also doing infill soil geochemistry throughout a 50m by 20m grid as part of mapping these pegmatites.
Key developments in Brazil
In April 2023, According to Sigma Lithium, the Grota do Cirilo project in the state of Minas Gerais will begin commissioning this month to have the product ready for distribution.
In May 2022, The Strategic Mineral Resources Company for the Green Energy Revolution, Brazil Minerals, Inc. (OTC Pink: BMIX) (the "Company" or "Brazil Minerals"), is happy to report that the Brazilian mining department has granted it a new 4,708-acre lithium exploration permit in Minas Gerais, Brazil.
Applications of Lithium-ion
The ultimate applications for lithium are different in 2021 compared to 2010, as electric vehicles (EVs) and lithium-ion batteries revolutionized the lithium demand.
Table 2:      End-Use Industry, 2010-2021
| End – Use | Lithium Consumption 2010 (%) | Lithium Consumption 2021 (%) |
| --- | --- | --- |
| Batteries | 23% | 74% |
| Ceramics and glass | 31% | 14% |
| Lubricating greases | 10% | 3% |
| Air treatment | 5% | 1% |
| Continuous casting | 4% | 2% |
| Other | 27% | 6% |
| Total | 100% | 100% |
Source: World Economic Forum
Glass and ceramics consumed 31% more lithium in 2010 than any other end-use industry. Lithium carbonate improves strength and decreases thermal expansion in ceramic and glass products, frequently necessary for contemporary glass-ceramic cooktops. Along with other less well-known applications, lithium is also used to create lubrication greases for the transportation, steel, and aviation sectors. Furthermore, with the significant industrialization, there has been a major growth in the use of lithium for batteries which was 74%.in 2021.
Although U.S.-based lithium-ion battery production must significantly increase to fulfill the demands of the expanding domestic market, the nation has a solid platform upon which to add more manufacturing capacity. Approximately 8% (or roughly 59 GWh) of the 747 GWh global EV lithium-ion cell production in 2020 was done in the United States. By 2025, 2,492 GWh of EV cells are estimated to be produced globally, with 224 GWh made in the United States. Furthermore, the World Economic Forum expects that by 2025, demand from U.S. passenger EV sales alone will exceed this estimated 224 GWh of lithium-ion cell production capacity.
Figure 5:      Cell-manufacturing Capacities (Lithium-ion Megafactory), By Geography, 2020-2025
                                                          2020                                                                                                2025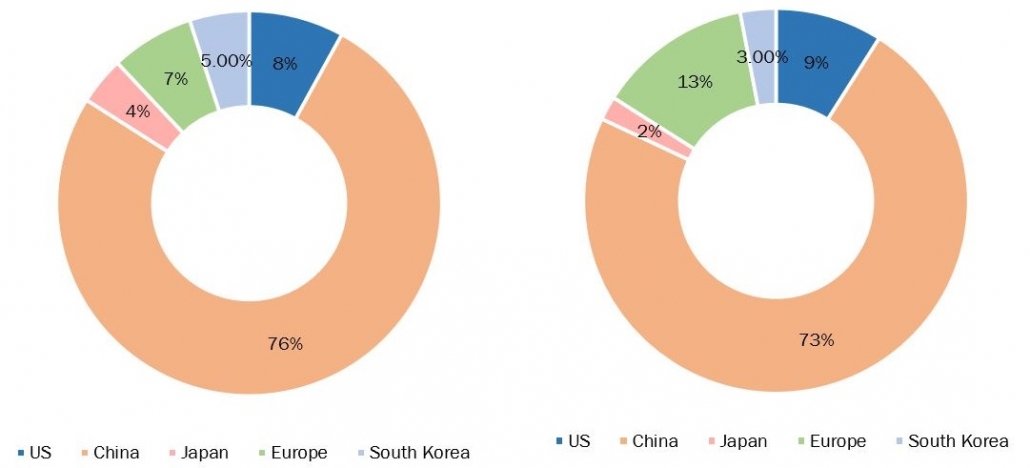 Source: Department of Energy
Major deposit classes and extractive operations in lithium production.
Only pegmatite deposits are now used to extract lithium. However, hectorite and jadarite may be used in the future. Although it has been shown that geothermal and oilfield brines can also be extracted, they are less common than continental brine deposits.
Pegmatites are classified as igneous rocks, often of granitic composition, that may be identified by their abundance of crystals with skeleton graphics or by their highly coarse but variable grain size, which sets them apart from other volcanic rocks.
Table 3:    Key Features Of Lithium Deposit Types
Deposit type
Brief Description
Typical grade
Examples

Minerals

Pegmatites

Common plutonic rock has a varied texture and coarseness and is made up of interlocking crystals with a broad range of sizes.

1.5-4%, Li2o

Australia, North Carolina, USA

Hectorite

Hectorite occurs with bentonite as an alteration byproduct of clinoptilolite from volcanic ash and tuff with a high glass concentration.

0.4%, Li2o

Kings Valley, Nevada, USA, México

Jadarite

A white, earthy monoclinic silicate mineral called jadarite is composed of sodium lithium boron silicate hydroxide.

1.5%, Li2o

Jadar, Serbia

Brines

Continental

Salt pans or salars in enclosed basins with lithium enrichment

0.04-0.15%, Li2o

USA, Chile, Argentina

Geothermal

Elevated levels of lithium contained in steam at geothermal power stations

0.01-0.035%, Li2o

Slaton Sea area, California, USA

Oilfield

Elevated lithium levels are seen in water or brine

0.01-0.05%, Li2o

Arkansas, USA
A variety of minerals may make up pegmatites. The term "pegmatite" or names with any other plutonic rock type as a prefix are used. Examples are granite pegmatite, gabbro pegmatite, and syenite pegmatite. Granodiorite to granite-type compositions is typical. There may be a lot of large crystals of micas (such as muscovite and lepidolite), potassium feldspar, sodium-rich plagioclase, and quartz. Hectorite clay deposits are uncommon, although they can be produced by at least three geological processes, including modifying volcanic ash or glass, lacustrine water precipitation, or incorporating lithium into pre-existing smectite clay deposits.
The government is initiating various lithium production methods
According to the USGS, a brine project in Nevada produces the sole commercial-scale lithium production in the US (there are also lithium processing plants and a facility for recycling lithium batteries in Lancaster, OH). To help ensure the supply of this vital metal, there is a rising demand to boost local lithium production.
In particular, geothermal brines from the Salton Sea in California and so-called "produced water" from shale gas drilling in Texas present opportunities for direct lithium extraction. In addition, several businesses, particularly in Nevada, are actively researching lithium extraction from lithium-bearing clays. Finally, many other manufacturing techniques are being studied, including acid leaching in sulfuric and hydrochloric acid.
Additionally, many sectors relying on the rare alkali metal are delighted by the recent Geological Survey of India's (GSI) declaration regarding its early exploration of lithium deposits. The GSI asserts that it has discovered "lithium inferred resources" in the Salal-Haimana region of the Reasi district in Jammu and Kashmir. These resources were calculated based on the surface and samples' physical and chemical analysis. According to statistics from the Ministry of Commerce and Industries, India spent Rs 163 billion on the purchase of lithium and lithium-ion between April and December of 2022–2023.
Projections of future market growth in top lithium-producing countries.
Currently, the commercial and the national defense markets may be distinguished in the U.S. for lithium-ion batteries or alternative rechargeable battery chemistries. Even though the end-use applications and specifications for various markets vary, they all demand innovation and R&D. For the nation to be economically competitive and secure, successful domestic manufacturing and trustworthy supply chains in both markets are essential.
Figure 6: Annual Sales Of Passenger Evs (Battery Electric Vehicles And Plug-in Hybrid Electric Vehicles), US$ Millions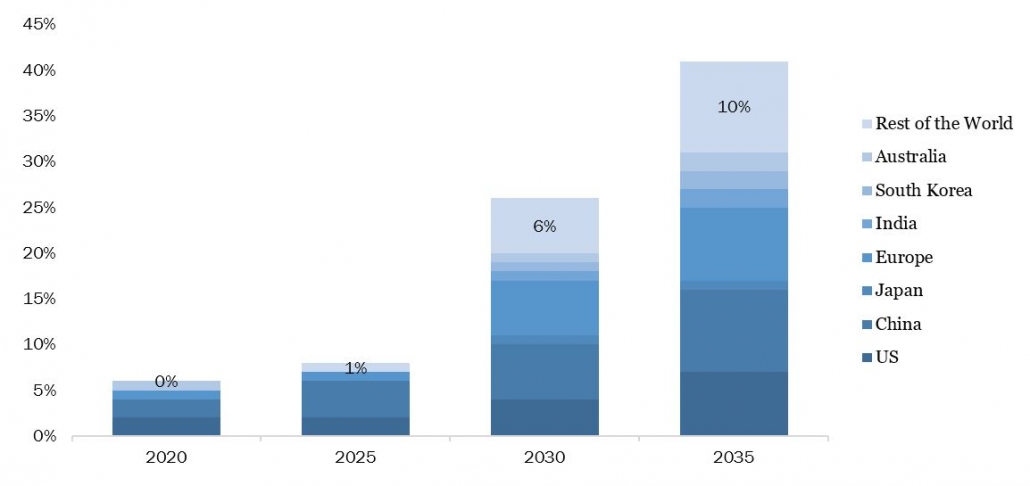 Source: Department of Energy
Major Companies and their key development in lithium production
Sociedad Quimica y Minera de Chile (SQM), FMC, and Albemarle formed an oligopoly that produced most of the lithium. SQM, FMC, and Albemarle still produce most of the lithium produced worldwide, although China also contributes significantly. In terms of mine output, it was the third-largest lithium producer in 2022, behind Australia and Chile.
 A joint venture between China's Tianqi Lithium and Australia's IGO controls the bulk of Australia's largest lithium mine, Greenbushes. The mine's operator, Talison Lithium, is 51 percent owned by the joint venture and 49 percent by Albemarle.
Albermarle – One of the biggest lithium manufacturers in the world, Albemarle has 5,000 workers and clients in 100 different nations. In addition to lithium, Albemarle also manufactures bromine and offers chemical services and refining solutions to pharmaceutical companies.
In February 2023, Albemarle increased its investment in Kemerton I and II to 85%, while MinRes increased its interest in the Wodgina mine to 50% as part of the joint venture's reorganization, which the firms announced.
In November 2022, Guangxi Tianyuan New Energy Materials, whose facilities include the Quinzhou lithium conversion facility, which can convert 25,000 metric tonnes (MT) of lithium carbonate equivalent annually, and the Meishan plant, which is expected to be operational by the end of 2024 and have a capacity of 50,000 MT annually, were acquired by the company.
SQM – SQM (Sociedad Quimica y Minera de Chile) has offices in more than 20 countries and clients in 110 countries. It operates in five business sectors, from lithium to potassium to specialized plant nutrition. SQM exceeded expectations by reaching 157,000 MT by the end of 2022 and generating US$8.15 billion in income from lithium and derivatives.
Ganfeng Lithium -Ganfeng Lithium is a prominent producer of lithium in China. It is one of the world's major producers of lithium metal and the top producer of lithium compounds in China.
In August 2022, the business kept binge buying, again with Argentina in mind. For up to US$962 million, Ganfeng said that it would purchase Lithea, a private firm that holds the rights to two lithium salt lakes in Salta province.
Tianqi Lithium – The largest hard-rock lithium producer in the world is Tianqi Lithium, a division of the Chinese company Chengdu Tianqi Industry Group. The business owns holdings in China, Australia, and Chile.
In July 2022, the business raised around US$1.7 billion for its initial public offering in Hong Kong. Commercial production at Kwinana started in December 2022 with the facility's Train 1; Train 2 is anticipated to be serviced in 2024.
https://www.knowledge-sourcing.com/resources/wp-content/uploads/2023/04/Lithium.jpg
519
1000
Gaurav Singh
https://www.knowledge-sourcing.com/resources/wp-content/uploads/2023/02/Printable-Resolution-big-300x78.png
Gaurav Singh
2023-05-11 11:35:01
2023-05-19 07:56:19
The Top 10 Lithium-Producing Countries